EQUIPMENT INSPECTION CHECKLIST

WHEEL LOADER CHECKLIST  (STANDARD)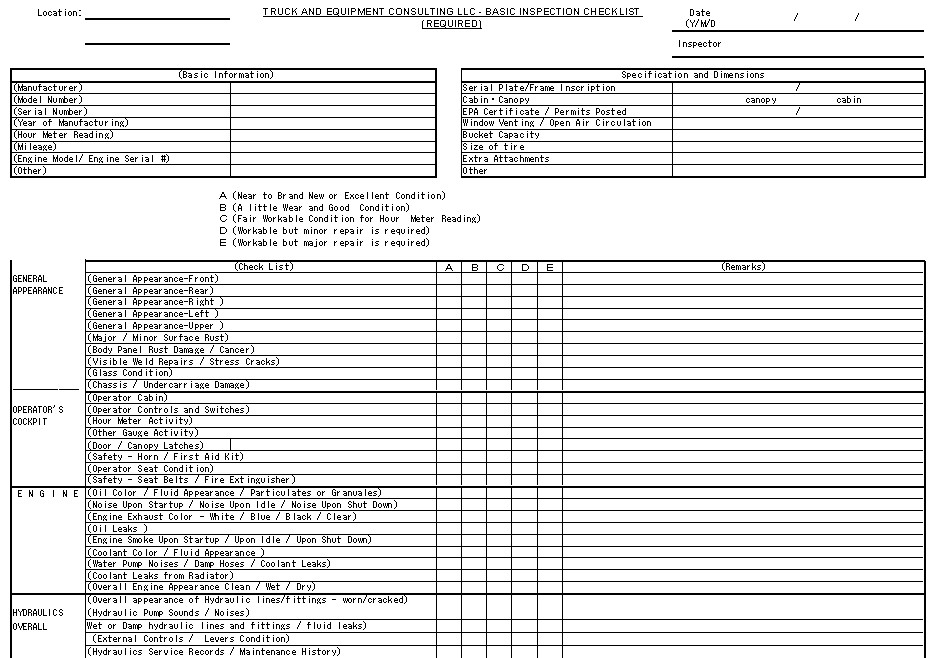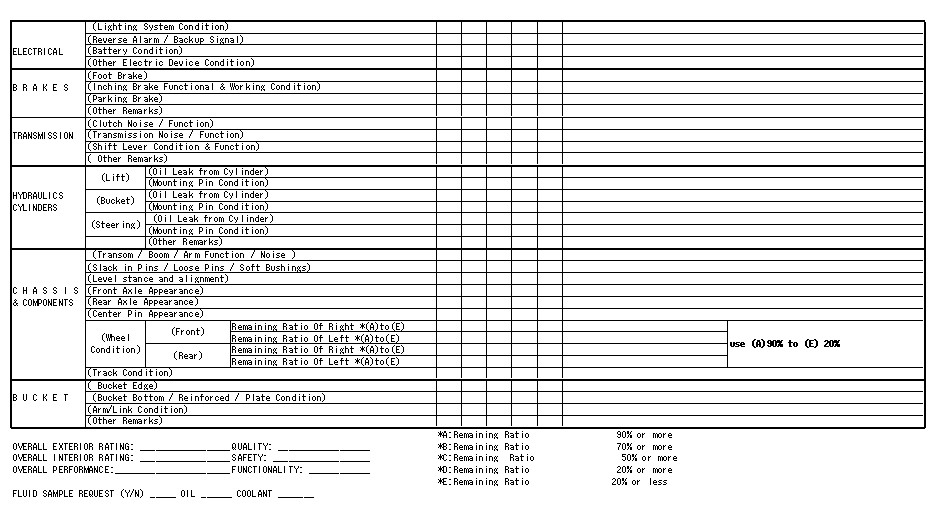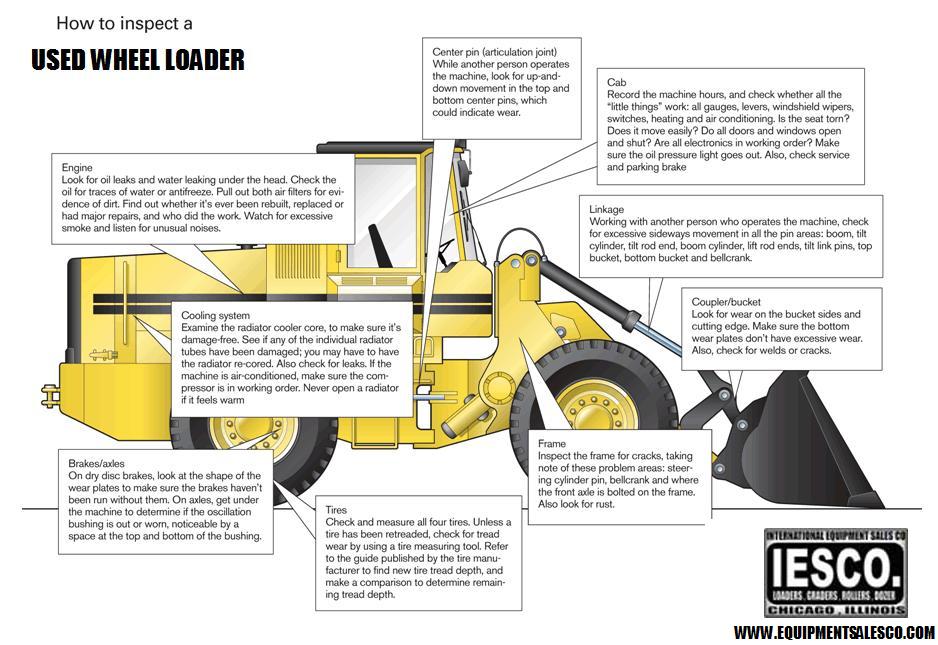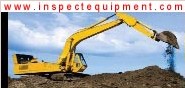 Custom bi-lingual checklists also available in both English, and, Spanish, French, German, Hindi, Japanese, Korean, Portugese, or Arabic  * SEE DIAGRAM AT BOTTOM *

Engine - Look for oil leaks and water leaks under cylinder head. Check for traces of water or antifreeze. Pull out both air filters for evidence of dirt. Pull dip stick check for metal particles in oil. Watch for excessive smoke and listen for unusual noises. Find out if engine has been rebuilt, replaced, or had major repairs and who did the work.

Center Pin (Articulation Joint)

While another person operates the machine, look for up-and -down movement in the top and bottom center pins, which could indicate excessive wear.

Cab - Record the machine hours, and check that the hours clock shows movement. Check whether all the "little things" work; all gauges, levers, windshield wipers, horn, switches, heating and air conditioning. Is the seat torn ? Does it adjust easily ? Do all doors and windows open and shut ? Are all electronics in working order ? Make sure the oil pressure light goes out. Are there any service codes and indicator lights on ? Check service and parking brake.

Linkage - Working with a second person operating the machine, check for excessive sideways movement in all pin areas; Boom, Tilt Cylinder, Tilt Rod End, Boom Cylinder, Lift Rod Ends, Tilt Link Pins, Top Bucket, Bottom Bucket, and Bellcrank. Look for leaks from all hydraulic cylinders, lines, and fitting. Check overall appearance and condition of all hydraulic cylinders.

Cooling System - Examine the radiator core to make sure it is damage free. See if any ot the individual radiator tubes have been damaged. Ask if radiator has been re-cored. Check for leaks, If the unit has air conditioning, make sure the compressor is in working order. ONLY WHEN ENGINE IS COLD, check coolant for light color vs. dark color, particulates, and oil contamination.

Brakes + Axles - On dry disc brakes, look at the shape of wear plates to make sure the brakes have not been run without them. On axles, inspect under the machine to determine if the oscillation bushing is worn out or missing, noticeable by a space at the top and bottom of the bushing.

Tires - Check and measure all four tires. Record brand and sizes indicated on side walls. Check for tread wear, dry rot, cracks and splits. Compare each tire for tire tread depth, overall condition. Ask if tires have been retreaded, Measure tread depth to compare with tire manufaturer published guidelines and limits.

Frame - Inspect frame and especially undercarriage for cracks and weld repairs, steering cylinder pin, bellcrank, and where the front axle is bolted on the frame. Make note any rust issues; surface rust, rust cancer, rust damage.

Coupler + Bucket - Measure bucket width and depth. Look for wear and damage on bottom, sides, and cutting edge. Check bottom wear plates for excessive wear. Check for weld repairs or cracks.

SOME BASIC IMPORTANT

CHECKS OF

USED WHEEL LOADERS